Helllloooo! So, my friend
Holly
(I love love love her

!

) and her awesome friend Amy
are hosting a "A Day In The Life" Link up party. I have so enjoyed reading about every one's day and I decided to join in

!

I hope you all don't die of boredom...but here goes

!

:)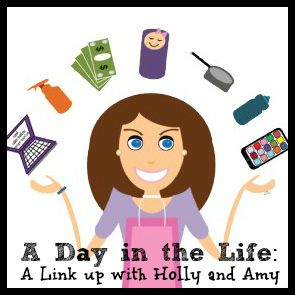 I am in total awe of everyone who wakes up at five or six.....not this girl (you know unless I have to, then I can do it, just not on a regular basis

!

)
I roll out of bed (slowly, like after hitting the snooze about four times) sometime after seven. I hit the bathroom first, I can't do anything until I brush my teeth. I'm weird like that. I put in my contacts, do my hair and makeup and get dressed. Exciting I told ya

!
I start my day by spending time with God. I read my devotion for the day and my bible and pray. This is the best way to start my day. :)
After I have my morning time with God I knock on my daughter's door and tell her to get up. I'm her back up human alarm clock.
Then I usually have some breakfast and unload the dishwasher.
Then I will yell at my daughter if she is not already up (Does anyone else have teenagers? Do you have to beg them to get up? Or just my kid?)
Once my daughter is out the door then my morning's are my time. Right now I am working an afternoon/evening shift. I will eventually get back to days, but right now I am actually really enjoying this shift.
On some morning's I walk
Today was not that day.
It varies how I spend my mornings, but usually I catch up on reading blogs and watching TV shows that I have missed. I don't have a lot, but I never miss Parenthood, Army Wives (I just watched the last episode-I hope for the season, not forever

!

) Big Brother or The Voice. I straighten the house and usually do a load or two of laundry.
Still with me? :) I really hope you haven't died of boredom, that would be sad

!

:(
After lunch I head in to town to work. I have a beautiful drive and I enjoy my commute. I tried to take a picture so you could see, but evidently I can not take pictures and drive at the same time. Trust me on this. :)
Some days (like today

!

) I come to town early and swing by my favorite thrift store before work.
Then I go to work. I work in customer service, and I love it. Really. I do

!

I usually eat dinner at work.
After work I usually do some crafting (often in front of the television...or the computer) I take my shower at night and I get everything ready for the next day (clothes, lunches, dinner) and make sure my purse and work bag are ready to go. I straighten the kitchen and start the dishwasher.
I usually read and wait for my daughter to come in, we converse for a bit, and I go to bed, usually around eleven. Before I go to bed I write down my days blessings and what I am thankful for in my
joy journal
.
Then I say my prayers, turn out the lights and call it a day

!

:)
Thanks to Holly & Amy for hosting this link party, it has been so fun to read about every one's days and meet new blog friends

!

:)